Description
Get your BLACK FRIDAY deal only TODAY!!!
Synthetic saddle including 2 pommels, fenders in a short or normal version and stirrups!
This saddle is in a discount because it is still labelled with old F.R.A. brand tag!
available in size:
size M, 17,5 inch, brown and black
size L, 19 inch in brown and black
description of the saddle: https://www.edixsaddles.com/wp-content/uploads/EDIX®-brochure-treeless-saddle-Vika.pdf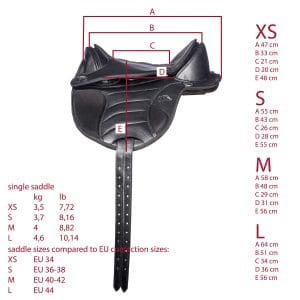 BLACK FRIDAY DEAL 100 euro less on normal price!
whole F.R.A. Vika saddle from €399,00 for €299,00